2016-2017 Crazyfly Twin Tip Kiteboard Hexa Pads and Straps (Blue)
New
Worn out foot pads?
Looking for a budget friendly option to upgrade your favorite board?
Do your feet hurt after those long sessions?
These Crazyfly Hexa Pads and Straps will solve your problem!
The Hexa Binding provides unlimited adjustability to accommodate all foot shapes and sizes, while offering unmatched comfort and board feel. All the adjustments on the Hexa Binding can be quickly and easily made for the ultimate rider-board connection. Compatible with boards that have a 6.75-inch insert spacing.
The Hexa footpad can be moved in six directions: up and down, left and right, and also angled clockwise and counter clockwise.
The Hexa footstrap offers a wide range of quick and easy adjustments of the footstrap size, adjustable on four points for the best possible fit. The range of adjustability also allows for comfortable use of neoprene boots. The footstrap position can also be adjusted via the Quattro Stix, which allow the footstrap to be moved towards the heel or towards the toes. In addition to all the adjustments, there is also a Heel Suspension Infix with triple density EVA foam for the ulimate in comfort and durability.
Our designers were hard at work to create the best possible ergonomic fit and hand picked premium materials for long lasting durability and luxurious comfort. The outdoor performance leather from Italy on Hexa footstraps is extremely resistant to abrasion, sun rays and salt water. On top of premium materials, the Hexa Binding is made in Europe in the CrazyFly factory.
The Hexa Binding unlimited adjustments and luxurious comfort.
Boards compatible with Hexa Binding:
| | | | | | |
| --- | --- | --- | --- | --- | --- |
| 2017-2016 | 2015 | 2014 | 2013 | 2012 | 2011 |
| Addict | Bulldozer | Bulldozer | Nuke | Nuke | Pro Tour Model |
| Bulldozer | Girls Pro | Nuke | Pro Tour Model | Pro Tour Model | |
| Cruiser | Nuke | Pro Tour Model | | | |
| Cruiser Double | Pro Tour Model | | | | |
| Cruiser LW | | | | | |
| Elite | | | | | |
| Girls | | | | | |
| Raptor | | | | | |
| Raptor LTD | | | | | |
| Shox Green | | | | | |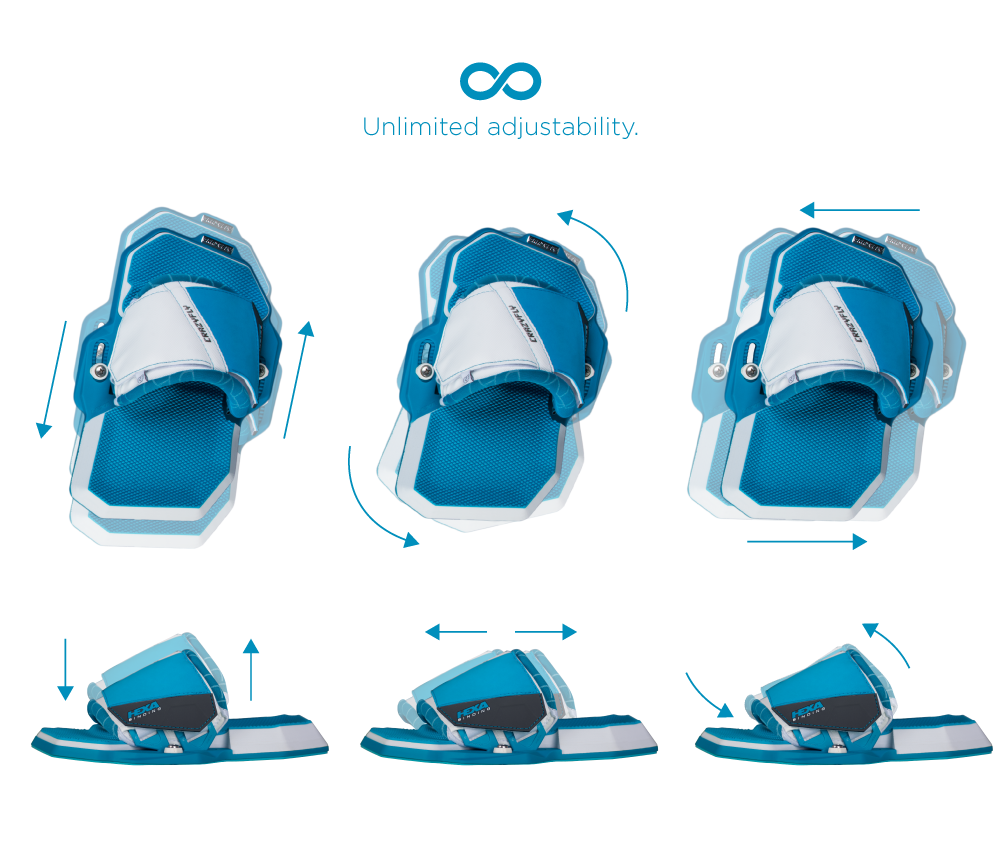 Call/Text 954.675.1695
INFO@EPICADVENTURESFL.COM
  
NICK - LEAD INSTRUCTOR & FOUNDER
 I am a professional kiteboarder and veteran instructor. I have been teaching for many years and love sharing my passion and experience with others. My love for the ocean and action sports began at birth, but i was lucky enough to be born and raised a Florida native. I spent most of my childhood exploring the waters and islands of the Florida Keys. during that time i Raced jet skis, wakeboarded, learned scuba diving, rock climbing, and skydiving. These were just some of the actions sports I enjoyed before falling in love with kiteboarding. I've travelled to various places around the world kiteboarding, teaching and exploring. From living in Costa Rica teaching in 25+ knot winds, kiting the Great Lakes of Michigan, New York (and almost all 50 states), St Croix, St Thomas, the British Virgin Islands, USVI, Hawaii, Bahamas and Dominican Republic to name a few. Through my travels I've gained knowledge and experience in a wide variety of conditions. I'm here to share my experience and knowledge with you.
CHELSEA - TEAM RIDER
 Chelsea is a local Florida born and raised kiteboarder. She is a quick learner for new tricks.  Favorite trick: backroll hand-drag kiteloop.
TONY - TEAM RIDER
Social media strategist and creator of GoSocial.Me Tony is a go getter and never passes on a chance to go on an adventure.
MIKE CONSTANTINE- TEAM RIDER
Super outgoing, friendly and always with a story to tell, meet Mike aka
CRAZYMIKE
Mike has been part of our team for over 4 years now, if you ever bump into him ask him about the Brazilian dream team story